To return to England, Scotland or Wales, you must take an antigen (rapid flow) test while you're on your holiday, within the three days before you travel back home. You should ensure you pack your Chronomics antigen (rapid flow) test into your luggage before you leave the UK. The testing packages are not available to residents of Northern Ireland.
TUI's information on entry requirements >
'The UK authorities will not accept NHS tests – you must have a Chronomics (or alternative private company) supplied antigen (rapid flow) test for your 'test to return'.
Here's a short, step-by-step guide from us to help you navigate your way home again.
Step 1
When there's 72 hours to go until your flight back to the UK, you should register and perform the Test To Return rapid antigen (lateral flow) testing kit you brought on holiday with you, according to the instructions provided. IMPORTANT: Don't register your kit any earlier than 72 hours before your flight or your travel certificate will not be valid for your homeward trip.
The instructions are in the kit, on our website here and you'll be walked through the process via your Chronomics dashboard when you register the test too.
Step 2
Once you've provided your sample and completed your Test To Return kit, assuming your result is negative, we'll automatically generate a certificate as proof of this. Make sure you have access to this certificate in the airport – either directly through the Chronomics dashboard on your mobile device (you'll need an internet connection for this), downloaded to your phone as a PDF, or as a printed hard copy.
Step 3
Fill out one of the UK Government's passenger locator forms here – to do this you'll need your Chronomics booking reference number as proof you've booked your Day 2 and Day 8 tests (if applicable) for when you're back in the UK.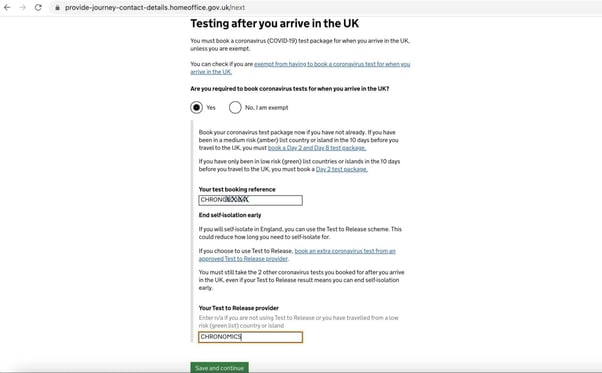 It always starts with CHRON, followed by a short series of letters/numbers and you will have this number on your initial booking confirmation email from us: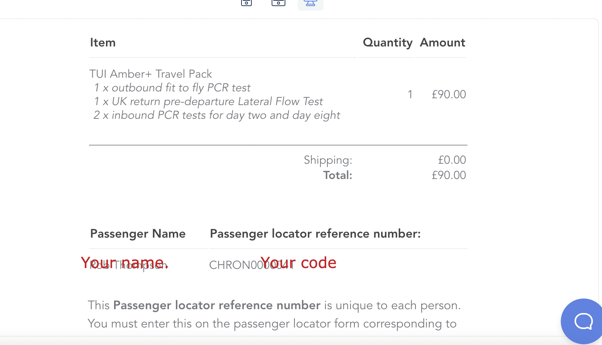 It's also available in your Chronomics dashboard: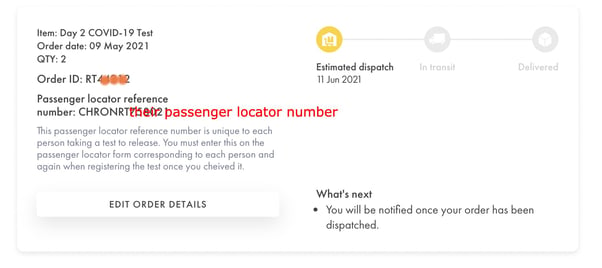 Step 4
Go to the airport, keeping all your travel and Covid-19 testing documents to hand during check-in and when going through security. Then enjoy your flight home to the UK, following the latest Government advice on any isolation needed after you arrive.
If your query is not answered within our FAQs, please fill in the below form and someone from the team will get back to you as soon as possible.