What is the Click and Collect Service and what are the benefits of using it?
Our Click and Collect Service is a quick, easy (and better value!) way for you to get your Day 2 Lateral Flow tests, just order the kit(s) you need online beforehand and stop by one of our conveniently located booths to collect them on your way through.
You can also purchase any last-minute Fit To Fly Rapid Antigen tests you might need directly from us at the Airport.
Please note:
The Fit to Fly Antigen stock at our booths are for last minute direct purchases only. Currently,
you aren't able to collect your pre-purchased Fit to Fly Rapid Antigen test(s) at the airport
-
these will be delivered to the address you specified when placing your order.
Benefits:
It's cheaper - Order your testing kit(s) online then simply collect them yourself – no postage or delivery necessary. And what's more, because we don't pay any costs for sending out the tests we're passing on those savings to our customers – that means it's cheaper for you to use Click and Collect than buying our standard Day 2 Lateral Flow testing kits.
It's more convenient -

By using our Click and Collect Service, you won't need to wait on the postal service any more and, for Fit To Fly, it's one less thing to worry about when you're packing your bags – you can perform the test at your own convenience.

It's quicker - You can also order kits and collect them on the same day, so it's quicker, easier and more direct – just place your order in advance and collect your kit on the way into or out of Gatwick Airport. No hassle, no fuss!



How does the Click and Collect Service work?
Using the Click and Collect service For Day 2 Lateral Flow tests is easy, just follow the steps below:
Place your order online, this can be done anytime before your return journey to the UK. You'll receive a confirmation email once your order has been placed – keep this safe as you'll need it later.
Carry out/ continue your travel as planned.
Once you've returned to the UK, go to one of our booths within the airport (click here to see where our booths are located) and show your confirmation email to one of our representatives.
Receive your testing kit(s) and leave the airport. Please DO NOT perform your test on site.
Follow the UK government rules for when your test should be completed. You can find the latest UK government guidelines here.
Register your test and follow the on screen instructions.
Receive your results and certification.


Who can use this service?
Click and collect is currently only available for customers ordering directly from the Chronomics website. This service is being piloted and we'll update as soon as this becomes available for our other customers.






Where do I collect my test/order from?

Airport Collection Points: We have two booths within London Gatwick Airport and you can use either booth to collect your test. Our first booth is located on Arrivals Level (00), within the car rental area. The second booth can be found on Departures Level (02) towards zone B in the atrium, next to the Skybreak booth.
Please see the maps below: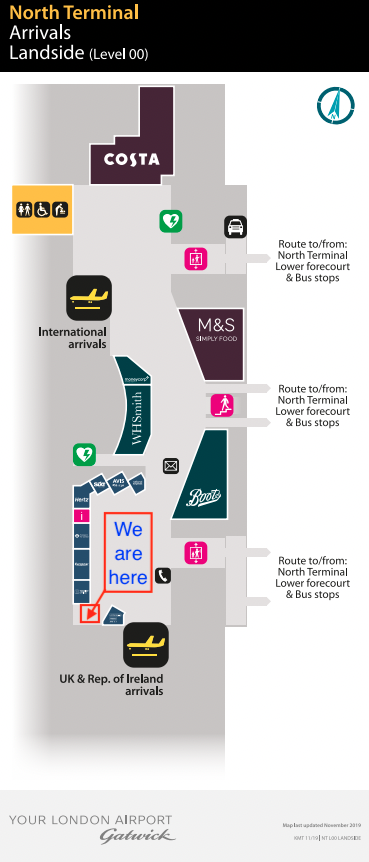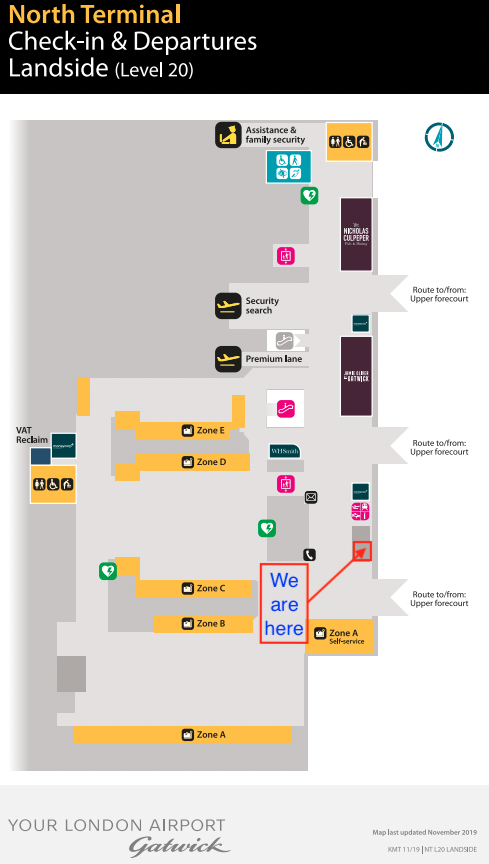 IMPORTANT: Potentially, Chronomics customers may arrive on the same flight, this could lead to queues at our booths. If you experience delays whilst collecting your test(s) please bare with us and we'll get to you as soon as possible. It's very important that you pick up your order as this is a click and collect service only so, we're unable to deliver uncollected testing kits to you.

Alternative Collection Point in Wimbledon: We have an alternative collection point in London for customers who don't wish to collect from Gatwick Airport. For more information on the Wimbledon collection point, including opening hours, please click here.
Are your booths open 24/7?
No, our booths are available from 4am - 11pm 7 days a week. Please check your flight arrival times before placing an order.
What do I do if I forget to collect my test/order?
If you didn't pick-up your test kit in the airport and you're unable to return to collect it, please click here.
Can I visit your booth for anything else?

Collection and Sales - Our booths can be used for collection or purchase of Day 2 click and collect tests, or for purchasing last minute Fit to Fly (Rapid Antigen) tests directly from our representatives. These are the only tests available for purchase/collection at our booths as we don't have the capacity to store other test types.

Support Queries - Our representatives at the airport don't have access to our systems and therefore aren't able to help you with any support queries. If you need to contact Chronomics for reasons other than kit collection or purchasing of Fit to Fly Rapid Antigen or Day 2 Lateral Flow products, please contact our support team for help via this form.

Test sample drop-offs – Currently, there's no facility to drop off your PCR test samples to send back to our lab. Please continue to use the Royal Mail Priority Post-boxes to return your samples - click here to find your nearest priority Post-Box

PLEASE NOTE: For legal reasons, our representatives can't help in the taking or registering of tests. We don't offer supervised testing at our booths.



Can I collect a test on behalf of someone else?
Yes, as long as you have the customer's order confirmation email you can collect testing kits on behalf of other Chronomics customers.